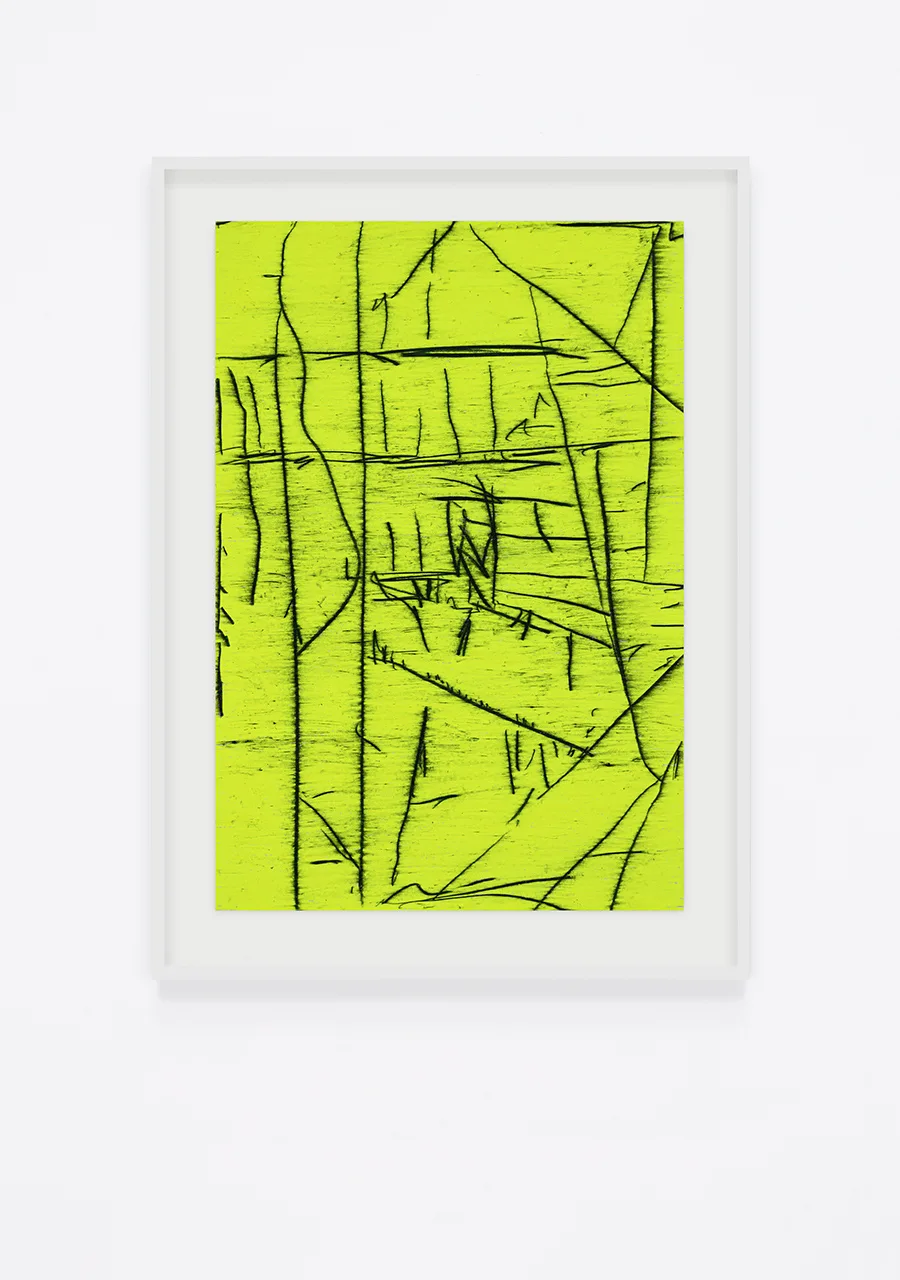 $350 USD * + Cost of protective packing/crating and S/H

Ryan Gerald Nelson
Threshed
2021
Pencil and fluorescent pigment on archival paper
15 x 22 in. (38.1 x 55.88 cm) [unframed dims.]
Artwork details
Artist catalogue number: RGN.2021.08.THR / Artwork classification: This is a unique work / Signature: Hand-signed by artist on the reverse
Frame details
Threshed
is framed and ready to hang / Frame dimensions: 19 x 26 x 2 in. / Frame material: Poplar, painted white / Glazing: standard acrylic (non-UV) / Mat board: Rising 4-ply archival mat board, White / Backer board: Archival double wall corrugated board / Strainer: Pine construction / Hanging hardware: None (but the inner edges of the strainer boards are milled with angled cuts to aid in hanging on nails/screws or a French cleat)
Questions?
Email
studio@ryangeraldnelson.com
Click to copy email to pasteboard
Threshed (detail)
Details / Terms / Disclaimers
* Price
Price includes frame and sales tax
** European shipping destinations
The select European shipping destinations eligible for this price include: Belgium, France, Germany, Luxembourg, The Netherlands, and the U.K. If you reside in a European country outside of these countries: Please get in contact in order to request custom pricing for shipping.
Other buyers
Potential buyers residing outside of the U.S. lower 48 or any international destination not listed above: Please get in contact in order to request custom pricing for shipping.
Packing/Protection
The artwork is protected within a custom-built wooden crate. Inside of the crate, the framed artwork is sufficiently wrapped and padded to prevent damage from impacts and moisture.
Shipping Cost
The shipping costs listed are based on standard/economy FedEx rates. If you need faster and/or special delivery, or if you have a preferred method of shipping, or if would like to use a fine art shipping company: please get in contact before purchasing to discuss logistics and pricing.
Taxes/Duties
For buyers outside of the U.S., additional local taxes and duty fees may apply and are at your expense.
Payment
Standard payment is accepted via the PayPal link above. If your preference is to make payment via Venmo, Square, wire transfer, etc., please get in contact to discuss details. Additional fees may apply.
Shipping Timeline
Given the size of the artwork, please allow up to 4–8 weeks from receipt of payment for preparation, packing, and delivery. International buyers may expect longer delivery times. A more accurate delivery estimate will be provided in the days following your purchase.
Disclaimers
Any additional costs not outlined above (such as customs duties, local taxes, etc.) are the responsibility of the buyer.
Once delivery of the artwork is made and is no longer in the possession of the shipping agent, the buyer is liable for insurance of the artwork or any third-party services required in the moving or installation of the artwork.
Should the buyer elect to independently contract crating and shipping services for the artwork, all additional costs (such as customs duties, taxes, insurance costs, etc.) are still considered the responsibility of the buyer. In this scenario, from the time the artwork leaves the premises of Studio Ryan Gerald Nelson ("SRGN"), the buyer will be liable for insurance of the work. If this route is taken by the buyer, a custom invoice will be issued by SRGN for the cost of the artwork plus an appropriate dollar amount for the time/labor spent in communicating with and arranging the transfer of the artwork to the shipping agent.
All sales are final. SRGN, at this time, cannot accept returns in exchange for any form or amount of refund.
All reasonable precautions are taken to properly protect the artwork, frame, and glazing while in transit.
Please get in contact with any questions or concerns.